My good friend and fellow blogger Eleanor recently wrote a post about creating a new bedroom for a one-year-old. She was worried about foisting her own tastes, likes and interests on her young daughter when decorating the space.
I have had the opposite problem whilst decorating my five-year-old daughter's room. Sofia had very definite ideas about what she wanted. For Sofia, like for Aerosmith, pink is the love she's discovered. I hate pink (and frilliness; I'm more a minimalist kind of a person). We compromised on a vibrant purple, Sofia's joint – well maybe second – favourite colour and something that didn't make me heave. We put down a  wooden floor and have white plantation shutters on order, so it's fairly neutral.
Then it's all been about clever detailing, so that we're both happy with the look and the room has a long enough shelf-life, but can easily be adapted along the line.
We got a white wooden mid sleeper cabin bed, which has a play tent and pull out desk with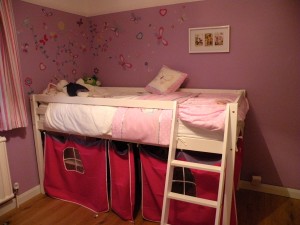 book shelf. It's very versatile and the idea is that it'll grow with her. At the moment she doesn't use the desk, but uses the play tent. I'm sure the opposite will be true in a few years, and at that point we can dispense of the tent and add another mattress underneath for sleepovers (by the way Sofia has been badgering me about sleepovers since she was four. I'm sure I was about 12 before I slept over at a friends'). Similarly at the moment Sofia has a bed set with butterflies on, which could be changed later on for a more grown up look. It's a great bed, the only downside is, it's a bugger to make as the duvet doesn't fit well within the frame; probably why the promotional shots don't have a bed spread on.
We also got a white bookcase from Vertbaudet, which looks good in the room and has very handy, deep pull out drawers on wheels at the bottom, which are perfect for storing bits and bobs, as are the little compartments.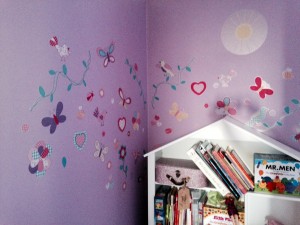 Sofia loves butterflies (and fairies), so I also got a butterfly rug to put by the ladder. It gives the room a cosier feel as a wooden floor can look a bit cold.
Continuing the butterfly theme, we got giant wall stickers from JoJo Maman Bebe. These were really good value and are actually really easy to remove (we made several mistakes when applying them!), yet stay well-attached to the wall once you have got it right. I know that we'd be able to remove them all without a problem when she grows out of them. We liked them so much in fact we ordered a second set to decorate another wall.
I was looking for a new light dimmer switch as the existing one is grotty and boring. I Googled fairy/butterfly light switch images and came across the fabulous Candy Queen Designs website. As the site says, light switches rarely evoke a strong reaction when it comes to style and design and often get overlooked but it's the small details that make a difference in a room. Too right, and these are really are original and quirky, and a fantastic finishing touch. The actual switch itself  is clear resin with real candy and biscuits embedded inside!! I thought they were brilliant and immediately ordered one of the fairy designs. Sofia was absolutely thrilled with it, it arrived quickly after ordering and I received excellent customer service. After Tweeting my feedback they kindly offered to send me another one for PR purposes. I gladly accepted knowing that we'd be decorating the twins' room next. I found a butterfly one, which I somehow missed first time around. Sofia loved this one too and had great difficulty deciding between them. She eventually went with the butterfly one as it completely matched the colours in her room and the butterfly stickers.
Our other little finishing touch is a Fairy Doorz. These are cute, handmade,  little wooden 'fairy' doors, which attach to the skirting boards and can be personalised. I bought one for Sofia's room and then decided that they'd make great gifts as well, so ordered another one.
We've now started on the twins' room and again it'll be about the details. We've gone for wall stickers again (see below), and of course have our fairy light switch… Their room is definitely going to be more about what I want though :-/