Day Thirty Two
The girls loved Tulleys Puzzle Park (the summer offering from Tulleys Farm) in West Sussex so much that we made a return visit so that they could show daddy.
We didn't take a packed lunch this time, so our first stop was The Farmyard Grill, which does BBQ food and sandwiches/baguettes. I have to say the food was really good and reasonably priced.
Then we headed straight into the maze. I think Matt had underestimated the scale of it. It was blisteringly hot so I guessed we wouldn't last the two hours plus of our last visit. As before, the girls really loved it. After getting off to a good start by collecting several of the stamps quite quickly, we had a bit of a dry spell. Luckily this coincided with finding the cafe within the maze. We stopped for refreshments, but unfortunately Maria got stung by a wasp. We got some emergency ice lollies to calm the situation and the guy at the kiosk gave Maria a complimentary one. She recovered well.
We gave it a good go, but Matt, Maria and Gabriella were beginning to tire. Sofia and I were up for carrying on, but the others won and so, much to Sofia's disgust, we cheated to get out.
Then it was duck racing, rope mazes, the giant slide, trampolines, a family tractor ride and a go on the quad barrel train. Just as we were about to leave we bumped into my friend and her family, who live in Madrid and had just arrived in the UK for a visit. She'd been reading the blog and seen my earlier post about Tulleys so decided to visit. Quite a coincidence!!
The girls thoroughly enjoyed their day and were tired out.
Ice creams: 0  Ice lollies: 4  Minor bickerings: 0  Arguments: 0  Small tantrums: 0
Day Thirty Three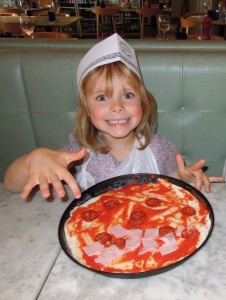 Sofia had another Pizza Express party to go to today, which chopped the day up quite a bit, but did mean we ended up having takeaway pizzas for lunch

 The girls have played pretty well on a day that saw us having to do lots of boring kitchen-related stuff, so I broke out the new High School Musical doll I had stowed away for just such a day.
Ice creams: 0  Ice lollies: 0  Minor bickerings: 1  Arguments: 0  Small tantrums: 0
Day Thirty Four
A proper rainy day. We have an annual pass, so we headed back to Hobbledown. It's a farm, but also has a lot else going on. For a bad weather day like today, we were going for it's vast indoor play area (the play barn). However, shortly after we arrived there was a break in the rain so we went straight over to The Crystalite Mine.
This is a giant sand pit where crystalite (green gems) are hidden. If you find enough pieces they can be exchanged for lollipops at the end of the visit. Needless to say, the girls go crazy for this. As not many people were mad enough to head over there straight after an absolute downpour, it was rich pickings. We then visited the animals, including the new wallaby enclosure.
Then it was off to watch a puppet show before having lunch. After that it was several hours of indoor play. The girls actually went to bed slightly earlier than usual!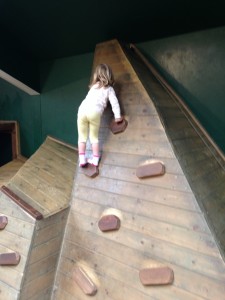 Ice creams: 0  Ice lollies: 0  Lollipops: 3 Minor bickerings: 2  Arguments: 0  Small tantrums: 0
Day Thirty Five 
A wet miserable day, which meant indoor play and a disco with some of our favourite tunes complete with disco ball.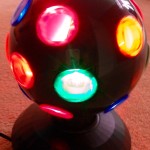 We did venture out of the house to go to the library. Sofia has now finished the Summer Reading Challenge and was very keen to collect her stickers and medal. She's opted to receive her certificate back at school. All three chose new books to take home.
Ice creams: 0  Ice lollies: 0  Minor bickerings: 0  Arguments: 0  Small tantrums: 0
Day Thirty Six
This rain is torrential! Thankfully we'd already seen the forecast so we'd planned a cinema trip with one of Sofia's oldest friends (from baby group) at Dorking Halls. We went to see Strange Magic.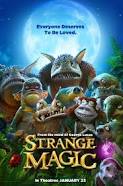 It was all about love: infatuation versus true love. The story was mainly told via song and had elves, fairy princesses, goblins, imps, magic and love potions. It was a big hit with our party of five girls. However, the adults were a little bit skeptical: two princesses who are sisters (one of whom becomes fiercely independent), power ballads and a good looking, male protagonist who turns out to be a wrong'un… hmmm familiar. Think Mr. Lucas let it go a bit.
Then it was off to Côte for a late lunch. They have a very nice childrens' menu, but the lack of colouring activities (and I'm not saying that I have anything against places that don't provide activities; they are restaurants and not playgroups after all) meant the kids, who had behaved wonderfully for the duration of the film, were a little restless when waiting for their food to arrive. However, it was all good when it did arrive and mine were already asking when we could do it again as we were leaving.
Ice creams: 3  Ice lollies: 0 Popcorn: bucketloads  Minor bickerings: 1  Arguments: 0  Small tantrums: 0