As a birthday present for my twins, a good friend of mine arranged a trip to the Biscuit Ceramic Cafe in Greenwich.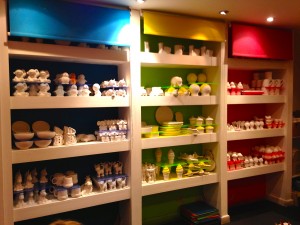 We went during the half-term holidays so it was quite busy and crowded upstairs. I was very glad I hadn't taken the double buggy as it would have been pretty tricky. However, my friend had booked the downstairs party room, which can be hired for anything from children's' birthdays to hen dos and team building days. It was a great space and the five of us (six including my friend's six-month-old, had it exclusively). It was perfect.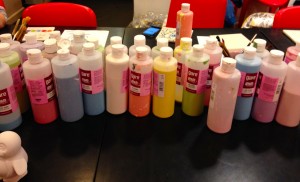 I'll admit now, as the day was such a success, that I initially had misgivings. I had no doubt that my eldest, at five, would love it. However, I was rather concerned that three-year-old twins, with a low attention span, would be rather troublesome and not very engaged. I need't have worried.
The girls each chose a blank ceramic item from a large selection. There were four shelves each with a different price depending on the size and complexity of the pieces. This price includes the use of all the equipment, paints, firing and packing. We had a cat, unicorn and penguin (all very cute), and I chose to paint a tile. Well I say paint, I actually just got all the girls to do a handprint on it. I'm not very artistic.
They were given a sheet of paper each to sketch their ideas/design onto. The twins just drew random stuff, but Sofia really planned out what she was going to do.
There were loads of different coloured paints set out on the table and plenty of duplicates of each so we avoided any issues about someone using the pink, blue, yellow, orange, red… when someone else 'needed' it. Each child had a palette and they were free to mix the colours however they wanted. There were also smaller paint tubes with nozzles for the more intricate work.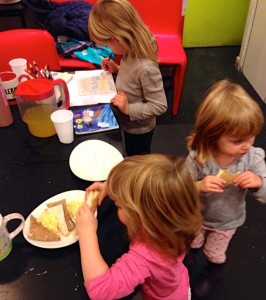 The girls spent ages carefully painting their ceramics. Part way through, one of the very friendly staff came over to take our food order.
The kids all had simple cheese sandwiches and a big jug of squash to share, which was just right and my friend and I had smoked salmon and cream cheese bagels with rocket salad. We also had very nice coffees. Coffee near me offers a great variety of blends. The Biscuit Ceramic Cafe also has a wide selection of homemade cakes, which looked delicious. Unfortunately we were so busy we didn't get a chance to sample any! I also see that they now serve a selection of red and white wine, beer and Prosecco. An added bonus 🙂
We had a two hour slot, which worked really well incorporating the pause for lunch.
After eating, the girls resumed their painting and that was it, we left our masterpieces to be dipped in glaze and fired in the kiln. The girls were beyond excited about seeing the finished products. Less than two weeks later we received them. They were delighted with their creations.
We'll be going back.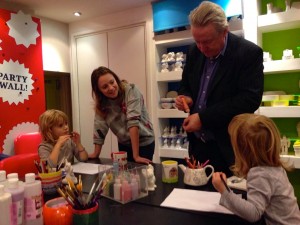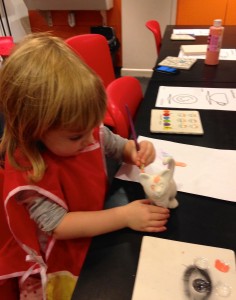 The finished products: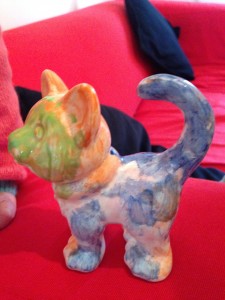 Bookings are only required for groups over six and for parties, and can be made by calling 020 8853 8588 or emailing: crumbs@biscuit-biscuit.com